Bonsai artist and bonsai vendor Scott Yelich of Indianapolis, Indiana, attended a workshop that I gave for the Fort Wayne Bonsai Club in summer of 2010.
He brought in a very lovely Ficus burtt-davyi Nana that he trained. Scott loves all Ficus but has a great appreciation for burtt-davyi as a worthwhile species for bonsai.
Scott runs Eagle Creek Bonsai LLC, a bonsai dealership in Indainapolis, Indiana.
Scott writes:
"I have been practicing the art of bonsai for about eighteen years. Bonsai first caught my eye about the same time I saw "The Karate Kid." I decided to give the hobby a try, although I had no idea what I was doing. After a couple of years of struggle, I met Mike Devore, a bonsai grower living in Crawfordsville, Indiana. He introduced me to tropical bonsai and guided me to success. From there, I was hooked. Although I have both outdoor trees and "indoor" tropical bonsai, I have chosen to specialize in tropicals. My greatest interests are with the ficus species and with collected buttonwoods. I am currently the assistant vice president of the Indianapolis Bonsai Club.
I really enjoyed meeting you and talking a little Ficus. I'm attaching several pictures of my burtt-davyi that I brought to the workshop. The tree was purchased from Mike Devore in June, 2008. It had originally been his parent plant, used only to make cuttings. It was in a ten gallon bucket, although it had engulfed the bucket and had grown through his greenhouse floor. We dug it out and threw it into the back of my truck. When I took it home, I took a saw and cut the tree into five seperate trees. The tree pictured is the third largest of the chunks that came from the original tree. The first picture was from the afternoon I made the initial cuts in late June, 2008. "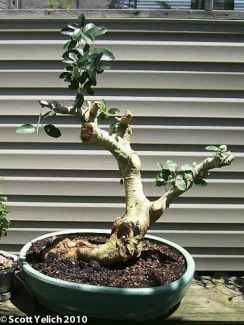 Ficus immediately after purchase, 2008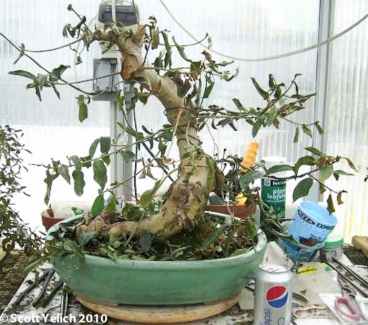 Ficus after freezing off, 2009