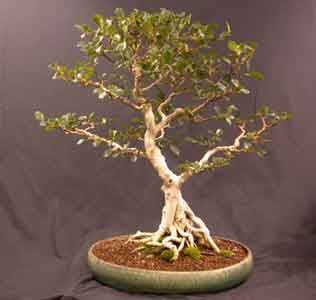 This Ficus microcarpa was obtained in 1984 from David Fukumoto of Fuku Bonsai, Hawaii . The tree's progress was slow in its first few years due to my inexperience with the material, especially a reluctance to trim it hard and often. Once I learned this plant's requirements, the tree's progress accelerated.
Over the next few years I will increase its ramification and density by leaf pruning it yearly. Perhaps some aerial roots will be developed to give it a banyan configuration.
Ficus microcarpa is one of the best of the figs for indoor and tropical bonsai. It is tough, durable and responds well, once its simple cultural requirements are understood.
Several grafts have been placed onto areas of the tree which have proved resistant to developing new foliage. Approach and free grafts have been easy and successful.
The tree is 29 inches tall and 4.5 inches in diameter.