In May of 2004, I had the great opportunity to spend a week with David Fukumoto on the Big Island of Hawaii. I have never had a chance to see the nursery operations or to get details of David's bonsai philosophy. This trip would give me the opportunity to pick David's brain to learn more about him, his approach to bonsai and more specifically tropical bonsai. The whirlwind week started with David picking me up at the airport and making directly for a park that contained huge landscape banyans figs nestled amid the lush tropical splendor and warm coastal breezes. We wandered about amazed at the hulking presence of these huge Ficus trees. Naturally we shot many pictures trying to capture the essence of these behemoths.
David holding aerial roots of Ficus microcarpa in a park in Hilo.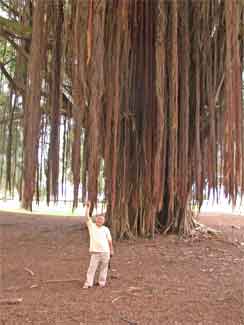 Detail of the base of a Ficus microcarpa, Hilo.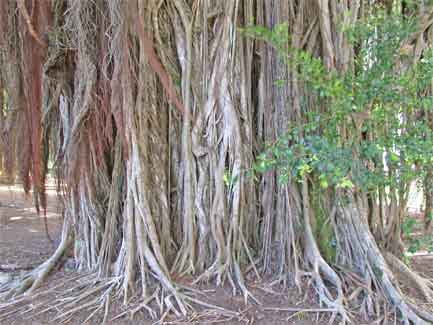 David is the President of Fuku-Bonsai and a bonsai pioneer in Hawaii as well as a major force in the local and business community of Hilo and the Big Island. Prior to moving to the Big Island, David was a resident of Oahu and began his bonsai business there. Fuku-Bonsai beside being a bonsai business, is also the repository of bonsai from the Mid-Pacific Bonsai Collection that is devoted to the pioneers of Hawaian bonsai and provides a place to exhibit their trees in a permanent display.

Ficus benjamina grove in the Mid-Pacific Bonsai Collection.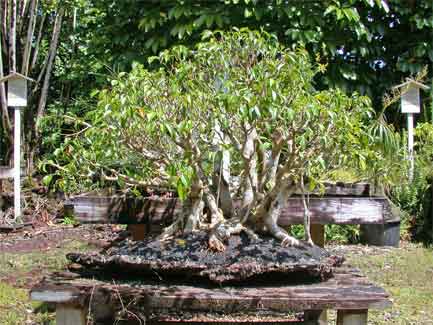 Fuku-Bonsai is also home to a reference Ficus collection, part of a study of the Lyon Arboretum. David has 50 Ficus species that were part of a study on figs. He has grown these trees for years and is familiar with their ins and outs.

David pointing out an unusual trunk-fruiting fig.
David's career spans many years and he has most notably worked with bonsai materials "local" to Hawaii as well as working with and pioneering naturalistic styles that are familiar to dwellers in the tropics but not well known to traditional growers of bonsai. David has also had long time fascination with Penjing as well as rock planted bonsai.

Severina buxifolia in an exposed root style.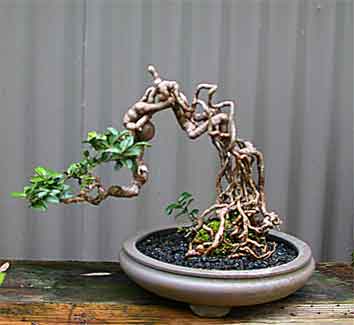 Fuku-Bonsai has focused in on the plant materials most suitable to survive in homes without augmentation of supplementary lights and humidification systems. David has settled on the Dwarf Schefflera, Schefflera arboricola, as the ideal material and patented these concepts with his "True Indoor Bonsai".

Ficus natalensis "Benevolent Dragon" created by David Fukumoto.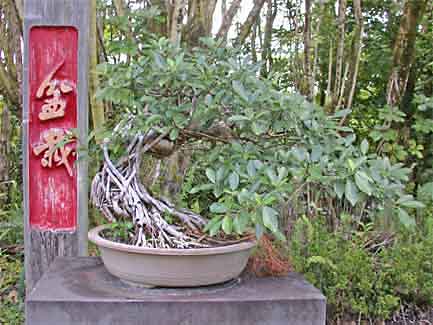 It was truly fascinating to spend time with David and his manager Mike Imano and to view the whole process of developing a bonsai from seed to shipping. At each stage of its life the plants are programmed to succeed indoors, despite owners who may possess no knowledge of bonsai or even how to care for houseplants.
The "True Indoor Bonsai" can range from 4 to 12 years or more. Plants are trained by an able staff that is supervised by Mike, a quiet fellow with a deep love of bonsai and intimate knowledge of how to take seeds and turn them into amazing bonsai.
The trees receive special fertilization, watering and light exposure to toughen them up to survive in a home environment. Other growers with "look-alike" products are clearly not the same. Each tree of Fuku-Bonsai has received extensive training with wire, reduction and cultivation. Trees are trained for sturdy trunks, proper branching and fine canopies, unlike other nursery offerings.
The training process may involve wiring the very small trees to give them the "Dragon" configuration, growing as root-over-rock style, banyan style or sumo style. Repeated skillful application of "clip and grow" and other techniques produce a quality product. Thousands of plants are processed each month and sent on to the buyers. Over the years a skillful and finely honed shipping process has been developed; allowing plants to be air shipped throughtout the USA.
David has also pioneered many techniques to style trees in naturalistic as well as Penjing styles.

Ficus being trained in the epiphytic style.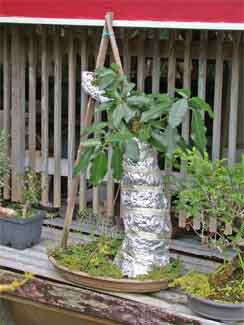 Looking to the future, David has been working on a definitive book on Schefflera bonsai which I know will become a classic work on this tree. I eagerly await publication of this work.

Large Schefflera in the banyan style.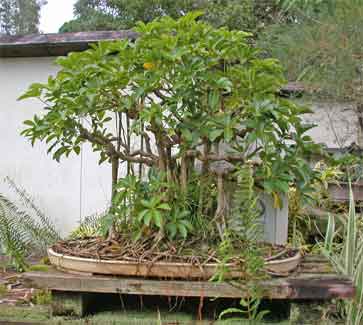 Note: As a disclaimer I have had a minor financial interest in Fuku bonsai for over 15 years.