In May of 2013 Rhona and I traveled back to Ann Arbor for the dedication of the new bonsai garden at the University of Michigan. This bonsai garden has been a dream of mine as well as many others who have been involved in the gardens. Many generous individuals have helped to bring this garden to reality. With the support of the Ann Arbor Bonsai Club and the Ft. Wayne Bonsai Club and many other local and regional bonsai clubs have been instrumental in making this garden a reality.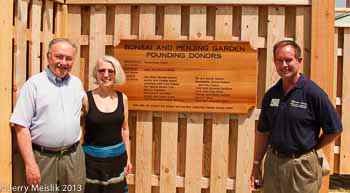 JM, Rhona and Matthaei Botanical Gardens Director Bob Grese in front of the donor's plaque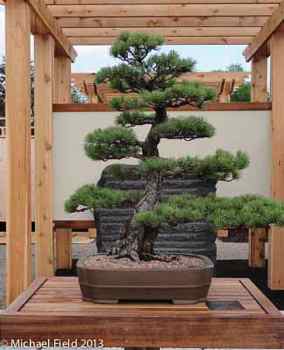 Japanese Five needle pine
The dedication was extremely well attended with hundreds of visitors, supporters and well-wishers present for the ribbon cutting and the first ever public viewing of the garden.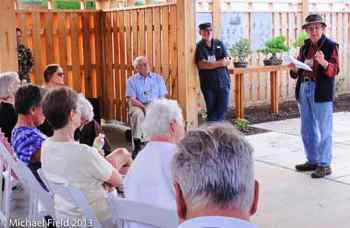 Jack Wikle reviewing the history of the bonsai garden
It was also my first opportunity to see the garden in the flesh as contrasted to imagining the garden as represented with virtual architechtural renderings. I must say the garden is spectacular. There are now about 20+ bonsai on display at one time. The bonsai are set atop attractive wooden pedestals.The pedestals are nicely spaced so that the trees can be observed isolated from the other trees nearby.
The feeling that one gets in the garden is one of openness and serenity; conveyed in large part by the generous spaces for the observer to move around and to step back and view the bonsai. The backdrops for the bonsai are simple white surfaces that make the trees stand out and allow critical viewing as well as photography.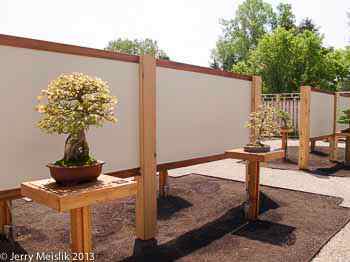 Jack Sustic's Trident maple in front of plain white backdrop
It is our hope that the future will see more great trees becoming part of the collection. The years ahead will show maturing of the landscape materials, inclusion of more stones to complement the garden. The current bonsai collection while very impressive will gather more age, maturity and grandeur.
There is space for a work area and behind it the nursery and "back yard" to hold bonsai not ready for exhibit or getting ready to move to the exhibit. And there is a nicely sized area right adjacent to it so that bonsai care and teaching can be done in full view of the public. There is enough space for twenty or more viewers.
It is also my hope that the garden's future will be a strong stimulus to bonsai education for all bonsai lovers in the midwest and to introduce the beauty of bonsai to the public at large.
The bonsai garden is open to the public and I invite you to visit and take part in the serenity of the garden and of course enjoy the bonsai.
PS there is still more money to be raised to ensure year by year care for the collection. If you can help please click here.
Thanks.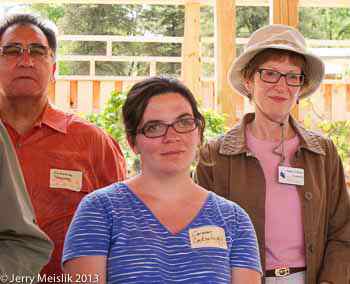 Carmen Leskoviansky(Collections Specialist), Gayle Steiner(Director of Development) watching the presentations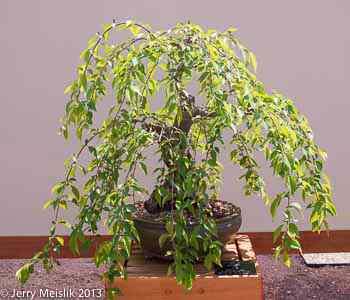 Weeping cherry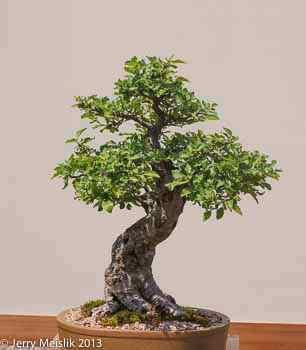 Cotoneaster upright style

Cotoneaster in a raft style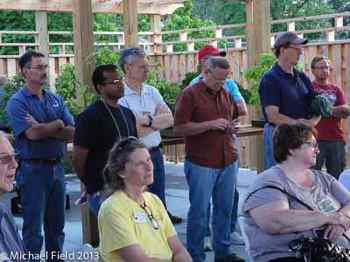 Part of the audience watching the presentations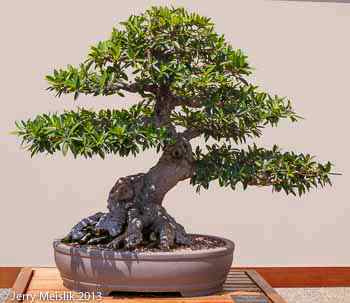 Dr. Melvyn Goldstein's Ficus 'Exotica'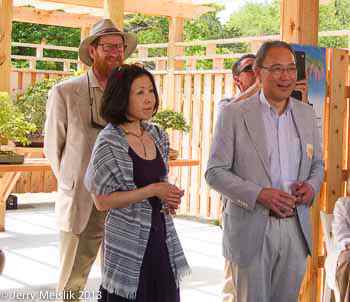 Dr. Michener, Japanese Consul-General Matsuda and his wife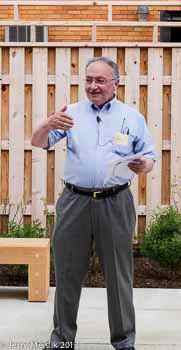 JM addressing the bonsai supporters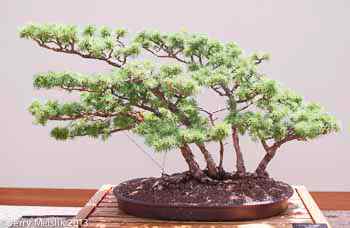 Larch raft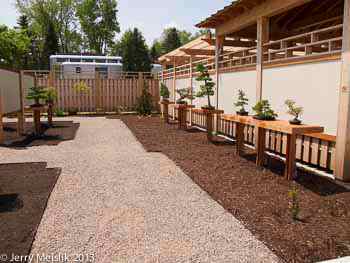 One long view of the garden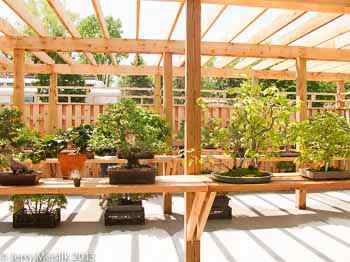 Back storage and staging area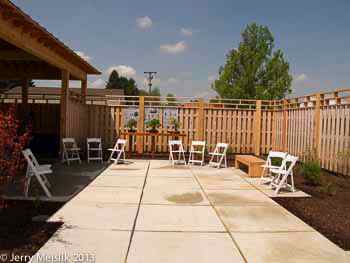 Spacious audience viewing area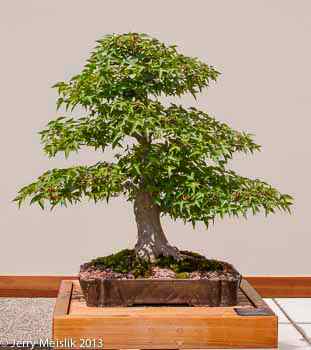 Trident maple of Jack Wikle